October 30, 1940
Dearest Mother,

How are you? Things are fine here in France. Not much is going on combat wise but we are kept busy nonetheless. Feldwebel Brandt is all the time making us clean and perform maintenance on our gun. We are constantly working and doing little fighting. I bet that makes you happy. We have the best crew mamma. Many of my new buddies grew up around Trier and it seems like we are on a huge camping trip. All of us miss home and hope this war will be over soon.
Feldwebel Brandt works right along with us helping to move in new munitions for reloading. He always shows us the way and I respect him but canít stand his incessant yelling.
It takes us several hours to get everything ready to be able to shoot our gun. Dieter, Alfonse, and Herbert try their hand at reloading magazines, while some of the greasemonkeys are performing maintenance on the gun.
Rolf brings the reloading crew empty patronenkasten to fill with loaded magazines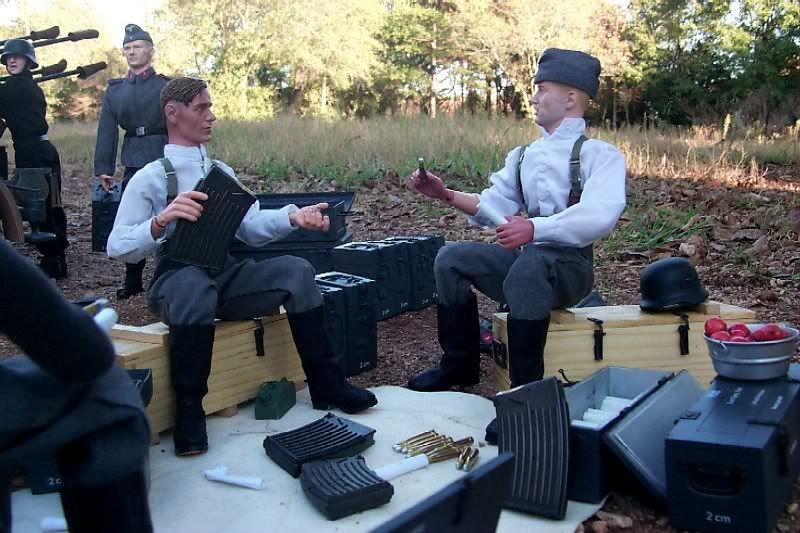 Dieter is loading magazines while Alfonse and Herman unwrap and supply him shells. Its like an factory
Dieter really knows how to load our magazines, seems like I always pinch my fingers putting in the shells, so I quit and let him do it
Alfonse checks our supply of rounds. We use up many in just one attack so its priority that we have ammunition
Wilhelm and Ziggy do all the maintenance on our gun. Today they are going to change out barrels on our gun. We wear many of them out and they must be replenished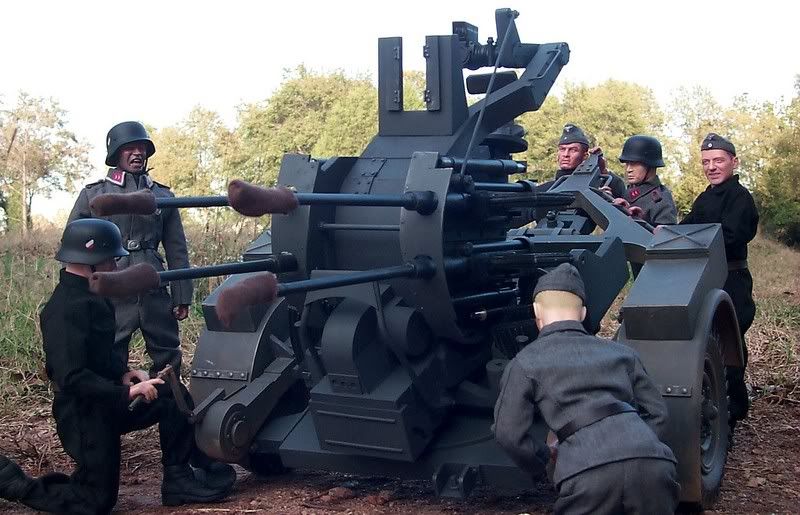 Well Mother its time to goÖ we must set up our gun for firing. Every now and then Englander fighters strafe our troops and we must be ready to shoot them down. We must remove the carriage from the trailer. Itís not as hard as it looks, but Feldwebel Brandt wants it done in record time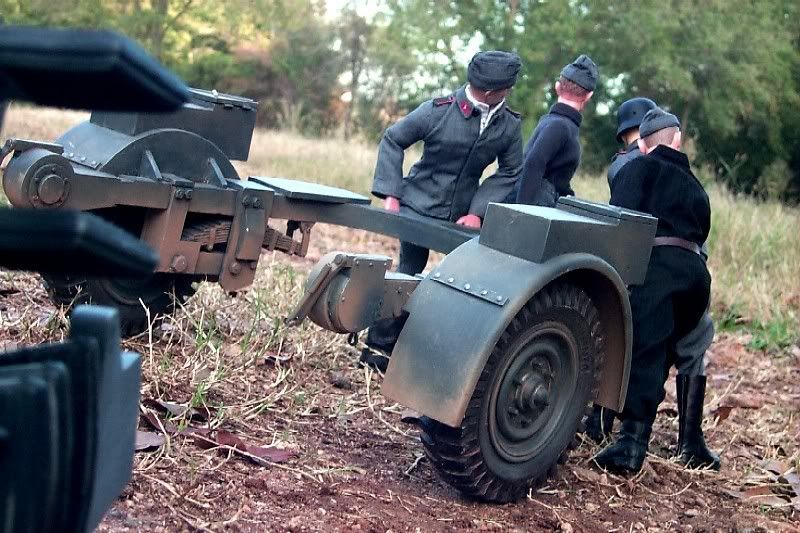 I need to go and help my buddies now, Got to work some more
Everything is ready now and my rangefinder beckons me. Until next time . All my Love!

Erich