Posted to a machine gun pit, dug in to take advantage of the haze from daily heat. They were told by older desert veteran's that anything two to three meters above the ground was greatly enlarged, were anything under the haze was almost impossible to see at a distance. Zeltbahns are erected to provide some shade and to keep weapons from being to hot to touch.
It was all quiet on the front, as Otto scanned the skies and horizon for the enemy, hoping that today would be quiet and another uneventful day.
Fritz was trying to keep busy by loading and cleaning the ammunition for the machine gun, most of all dreaming of his girlfriend back home in Bad Kissingen.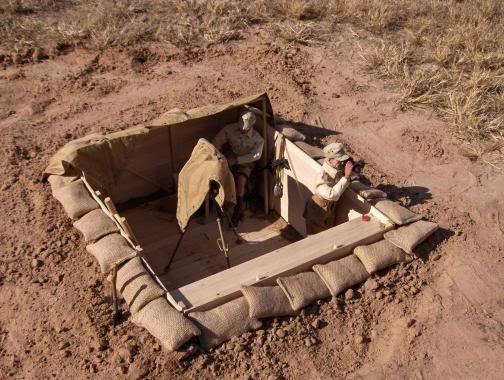 "Great a visitor! Fritz quit daydreaming looks like the boss is checking out the perimeter, get squared away."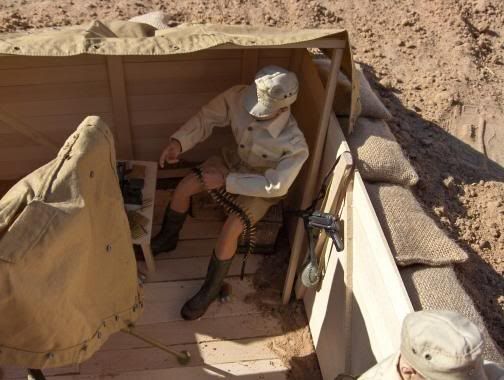 "Don't worry he is just bringing us some lunch and mail."
"All quiet you two, have you cleaned the MG today? "
"Yes we have. We only have it covered to keep the sun off of it. Any news from HQ? Is some of that mail for us?"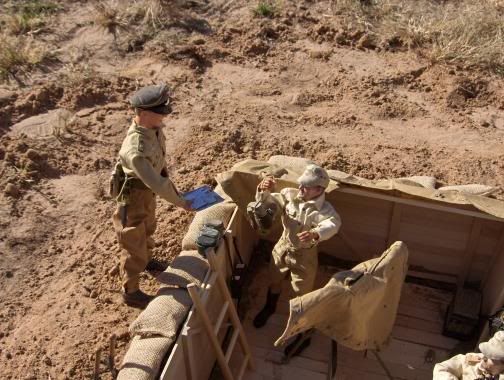 "Here take these canteens and mess kits, it's you lunch. Some mail and other things for you to read. Don't forget your duty and make sure one of you is on watch while the other is reading."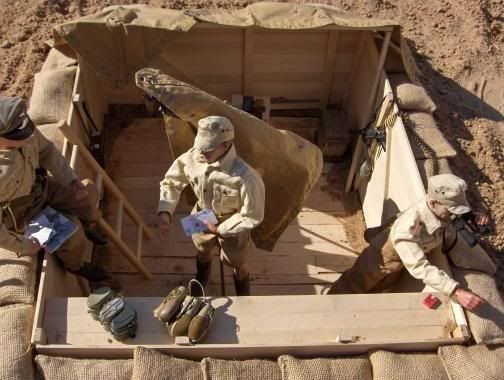 "Alarm!.........Jabo!"
"It's over there in the distance!"
"Great ready, pull the cover off the MG!"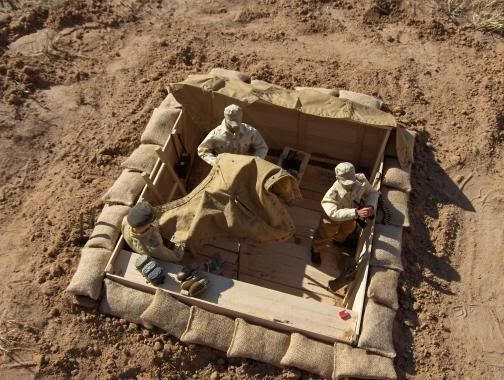 "MG charged and ready!"
"False alarm, false alarm, I am sorry, it's that dam haze from the heat."
"Otto, I thought you said that I was the one daydreaming, I think all this heat is effecting your good judgement."




"Good job men, even though it is a false alarm it is good to know you can move fast when you have too."


"Now let's sit down and see if the cooks burnt our lunch again."